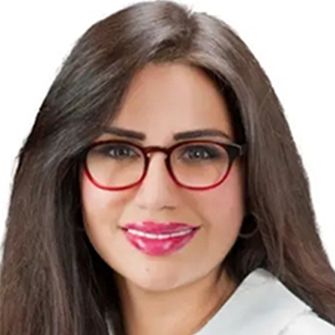 Dr. Amal Alkout serves as an Of Counsel in the Group. She began her legal journey with a Bachelor of Laws degree from Kuwait University in 1994, followed by a stint at Taher Group Law Firm from 1997 to 2000. Thereafter, she transitioned to the public sector. In 2003, she earned a master's degree in Administrative Law from Kuwait University and later obtained her doctorate degree in investment law and Public Private Partnerships in 2016.
Dr. Alkout has accrued experience across various prominent institutions in Kuwait. She worked at the National Bank of Kuwait from 1991 to 1992, served as a legal researcher at the Ministry of Higher Education from 1996 to 1997 and from 2000 to 2004. Subsequently, she was promoted to Head of the Department of Consultations and Investigations for the Department of Legal Affairs (2004 -2008). Later, she ascended to the role of Head of Administrative Research, Audit, and Consulting (2008-2011). In 2011, she joined the Civil Services Bureau as a Supervisor of Employment Affairs. Currently, she plays a pivotal role as a Supervisor in the Financial Investigation Unit for Money Laundering.
She is also a permanent authorized agent designated by the President of the Court, tasked with publishing the developments of the administrative legislation of independent and governmental bodies. Dr. Alkout holds a certified training certificate and has imparted her knowledge through numerous lectures and courses at the Civil Services Bureau to independent and governmental bodies.
Dr. Alkout's expertise lies in the field of investment and public-private partnership sectors, where she has offered significant legal consultation to leading institutions in Kuwait. She excels in public-private partnership, contributing to the organization of legal frameworks for investment opportunities for local, regional, and international companies. Her profound experience has been instrumental in driving private sector participation in Kuwait's construction and development projects, managing pre-qualification documents for investing companies, and fostering sustainable development.
Dr. Alkout's deep understanding of administrative law, public service, administrative authority, administrative contracts, and administrative cases in general, makes her an invaluable asset.
Specialization and Experience:
Dr. Alkout's doctoral thesis focused on public-private partnerships, a field where she has provided many courses and consultations. Her keen vision for the evolution of the legislative system related to economic development affairs, especially aspects related to the management of investment contracts and public-private partnership sectors, is noteworthy. She has played a crucial role in the formulation of modern contracts for the public-private partnership sector in accordance with Law No. 116 of 2014 and organizing opportunities that contribute to economic development.
Educational Qualifications:
Dr. Alkout holds a Bachelor of Laws from Kuwait University (1994), a Master of Administrative Law from Kuwait University (2003), and a PhD in Public-Private Partnership from Lebanese University (2016).
Professional Registrations:
Dr. Alkout was registered as a lawyer in 1994.
Languages:
She is proficient in Arabic and English.
Events, Courses, and Symposia:
Dr. Alkout has participated in several training courses in executive and supervisory roles and has contributed to many specialized workshops. She has also taught at the General Authority for Applied Education in the legal department for commercial companies. A board member of the Kuwait Chess Federation, she is also a founding member of Al-Faza'a and Legal Guidance Center of the Kuwait Transparency Society and served as a Legal Advisor to Al-Shahid Office until 2011.