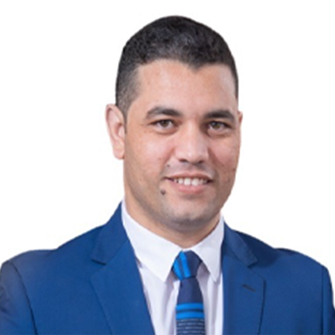 Mr. Farhat Al-Mahdi embarked on his professional journey with the Tahir Group in 2013. Currently, he presides over the Follow-up Department in the group's Kuwait office. With a law career spanning over 13 years, Al-Mahdi's expertise is rooted in his extensive service in Kuwait's legal sector. In 2008, he graduated from Al-Azhar University in Egypt, earning a Bachelor's degree in Sharia and Law with a specialization in Law.
As Head of the Delegation and Follow-up Department, Al-Mahdi's key responsibilities encompass the efficient organization of the litigation department, daily operations management, and coordination of court and expert session attendance. He further supervises administrative, legal tasks and the implementation of enforcement procedures. His proactive involvement has significantly contributed to aligning the department's administrative and follow-up procedures with global best practices. Al-Mahdi also plays a pivotal role in fostering his colleagues' legal capabilities by providing training to numerous follow-up staff, executives, and lawyers within the group.
Specialization and Experience:
In his role as the Head of the Delegation and Follow-up Department, Mr. Al-Mahdi applies his profound experience of over 13 years in supporting the legal profession and managing the Delegation and Follow-up Department. His leadership responsibilities include the daily task allocation to follow-up staff and lawyers and managing presentations and task distribution within and beyond the office premises.
Education:
Mr. Al-Mahdi received his Bachelor's degree in Sharia and Law, with a focus on Law, from Al-Azhar University, Egypt in 2008.
Language:
Mr. Al-Mahdi is fluent in Arabic.